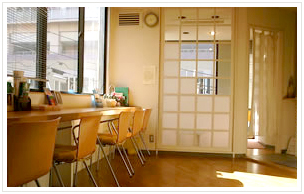 Disability
There is an elevator available for those with disabilities or those who have trouble climbing stairs
Mouthwash Corner
There is a mouthwash station for your use before treatment. Please feel free to ask the receptionist for an available toothbrush.
The cold water provides natural water
There is hot and cold water available, also Japanese or Western style tea.
TV video service
We provide educational video of preventative measures.
Reading glasses available
Please ask the receptionist if you require reading glasses.
Umbrella Service
Please use it for a rainy day.
Service in English
There is English speaking staff available.
Massage Chair
Please feel free to use any time.
Children's Playground
There are toys and books available. (Is not nursery. Please be responsible of your children.)
Shoes okay
Please feel free to wait in the waiting room with your shoes on.
Security
Cameras are installed in each clinic.