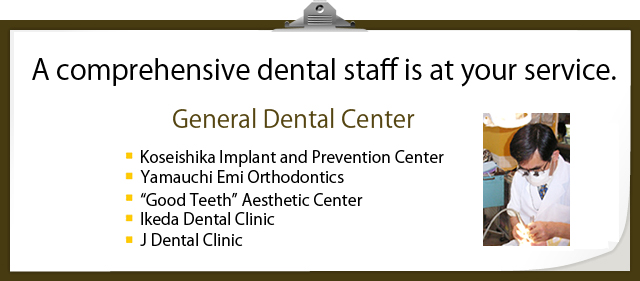 This is Koseishika at Yawata in Ichikawa city in
Chiba Prefecture. We have specialists to meet
patients' needs; over 20 years of experience in
oral surgery, orthodontics, hygiene, 500 dental
implants, and general treatments. We strive to
keep your teeth as strong and healthy as
possible. Our goal is to fix current issues and
provide the best preventative measures against
further complications.

Name
Keiseikai Medical Treatment Corporation.

Koseishika International Dental Clinic

Representatives Tyler Evans

Location
Yawata Ichikawa, Chiba 〒 272-0021 2-16-16 2F (1F Jeans shop)

Please bring your parking ticket to the reception desk. We will exchange it for a parking voucher. Please refer to the map for parking locations. For questions, please call us at 047-334-5150

Contact

Hours

TEL:080-3317-8459

Sunday 9:00 AM – 3:00 PM

Insurance accepted
Japanese National Health, Unions, Mutual Aid and Public (if you have questions, please contact us)
Credit Cards Accepted
Appointments
Emergency care appointments are accepted

Please email the following to KIDC@kosesika.or.jp or call 080-3317-8459
Name
Phone Number
Desired Treatment
Availability
Insurance Information
We will return to you as soon as possible with relavent appointment information. Far away and have a tooth problem? Please call for a free consultation if you are unable to make it to the clinic in person.